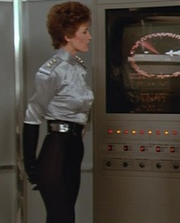 Commanderette Zircon is a character in Spaceballs as well as Spaceballs: The Animated Series. She was played by Leslie Bevis in the film. Julianne Grossman played her in three episodes of the TV series. Commanderette Zircon worked in Spaceball City. She has a habit of calling President Skroob at inconvenient times. When not working, one of her favorite activities involves getting "beamed" by Snotty. As a possible testament to her unfeminine demeanor, she does not appear offended when Snotty calls her, "sir".
Commanderette Zircon's rank on the 5-Bad Band would be the Dark Chick, since she is the only major antagonist of the series who is female.
Community content is available under
CC-BY-SA
unless otherwise noted.